So you've got an iPad, but have come to the dawning realisation that you've got no cash left to buy any games for it.
Have no fear, because the App Store offers plenty of iPad gaming goodness for the (unintentional or otherwise) skinflint.
Haven't bought an iPad yet and not sure which is best? We've got them listed on our best iPad ranking – or you can check out the best tablets list to see the full range available now.
Our updated pick of the best free iPad games are listed right here.
New this week: To The Castle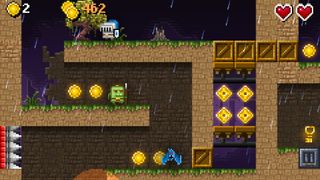 To The Castle finds tiny knight Sir Petrionius doddering about gloomy dungeons, attacking monsters, pilfering bling and making for the exit.
The twist in this platform game is the limited controls; the knight runs of his own accord, and you can only make him either jump or unleash a devastating thrust attack that propels him forward, killing anything in his way.
These restrictions, married with tight level design, make for a fast-paced path-finding-tinged arcade platformer. Timing and good reflexes are key as you leap into the air, and then thrust attack to obliterate enemies or leap over spike pits. And if you get particularly good at all that, blazing through the 60 built-in levels, you can make your own in the game's editor.
Can't figure out which iPad to buy? Watch our guide video below!