It's been ten years since Android was first outed by Google, and back then it was hard to imagine the sheer number of apps we'd have today.
There are apps for everything, and many of them are completely free, meaning you're just a few downloads away from supercharging your smartphone at no extra cost.
Admittedly, the huge quantity of apps doesn't mean they're all quality – far from it in fact, and finding the good ones can be tough. 
There are tools and techniques to help, with various lists in the Play Store providing you with Editor's Picks across a range of categories, new releases and even apps that are specifically recommended for you based on your previous installs.
You can also hunt out apps that are similar to your favorites by searching for an app you have and seeing what else comes up.
And checking out user reviews and ratings can save you from downloading a dud of an app.
But even with all that, the sheer number of apps on Google Play means many of the best can often get lost, while weaker ones sometimes rise to the top.
So to make sure you never install a duff app here's our selection of the best you should install right now – each one carefully chosen to ensure you'll have a whole suite of fun, engaging and, dammit, useful apps on your phone or tablet.
New this week: Datally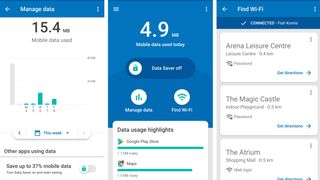 Ever wonder where all your mobile data is going? Datally can help answer that. It's an app made by Google that not only tells you how much mobile data you've used over the last day, week or month, but also breaks down which apps are using it and how much they're consuming.
That's handy, but it's something that a lot of other data monitor apps do too. Datally has a few extra features though. For one, there's a data saver mode, which blocks apps of your choice from using data when you're not connected to Wi-Fi. That's especially handy if you find one is a big drain and you don't need constant access to it.
There's also a list of nearby public Wi-Fi networks. The app shows you how far away they are, pinpoints their position on a map, and tells you whether they're password-protected, so you can more easily seek out a suitable connection.
Datally is a Google app, so it's unsurprisingly polished and simple to navigate, all of which makes it a very worthwhile freebie.